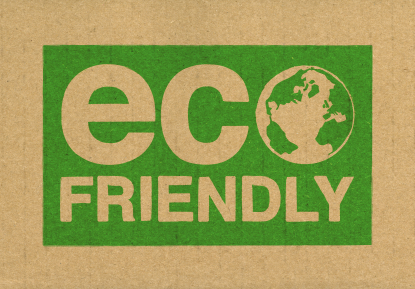 Green marketing promotes a product's environmental benefits or a brand's sustainability plans. What we once thought was a trend is gradually becoming a standard.  It's not quite there yet, but it's getting there. And big business knows it and feels it.  Therefore, all sorts of marketing efforts are being made to meet the requirements of the green market and  eco-friendly consumer. The following four points represent aspects of green marketing that copywriters have to consider when working on a green-focused marketing campaign or simply writing about a non-green company's only eco-centric product.
1. Green Marketing Myopia
Green marketing has two goals: (1) customer satisfaction; and (2) improved environmental quality.  Don't be overly engrossed in the product's greenness when you craft your copy.  Do not fail to attempt to convince them of its non-green benefits.
Your client's customer may be an eco-friendly consumer, but your marketing message still must answer the prospect's primary question "what's in it for me."  This is especially true in cases where your client is trying to appeal to consumers who are not yet green. If it's a cleaning product, show how it benefits the busy work-at-home dad. The idea is to understand and address the customer's non-green pain points.
In addition, green products tend to cost more and customers have complained that they are not as effective as their eco-unfriendly counterparts. These are the types of objections you'll have to keep in mind and overcome as you brainstorm and construct your piece.
2. Educate the Consumer
Establish how environmentally conscious products help customers protect their health, protects nature and the outdoors (for recreational purposes), and preserves the ecosystem/environment for their children and their children's children. Empower the customer by showing she can make a difference. Use figures and images to drive home the point.   When companies make the effort to teach their green living customers, these lessons can enhance involvement and imagery, not to mention improve the brand's credibility.
3. Green Living Consumers Don't Want Perfection. They Want Honesty
The writing part of the campaign is your job.  Thus, it is your job to unearth the marketable truth about your client's product so that you are not responsible for or a party to greenwashing.  And "truth" is the operative word here. The claims you make in your copy have to be credible.
"Green-wash (green'wash', -wôsh') – verb: the act of misleading consumers regarding the environmental practices of a company or the environmental benefits of a product or service," as defined by sinsofgreenwashing.org.
Bonus#1: You may find it helpful to download and skim through the Sins of Greenwashing Report before crafting copy for companies whose campaign marketing segment is green living consumers or the like.
Between you and me, before you start writing your copy, on your own (without alerting the client), run your client's company's name through the GreenWashing Index to see where they stand so you can be certain your copy does not contain inaccuracies or does not conflict with information that is already out there and which may contradict what you are saying in your text. The GreenWashing Index is an interactive forum that allows one to evaluate ads that make environmental claims. You can register Right Here. (Registration takes 9 seconds or less, literally . . . and it's free).
4. How Well Do You Know Your Client's Green Target Audience
Make sure you really know the target audience your client is marketing to. Understand their needs.  Be certain the client's customers that you are targeting are concerned about the issues your offering attempts to concentrate on. Are they even aware of the concerns you are addressing?  If they are aware of them, do they care? Once you've determined all that, let the customer know how your offering is better or different from the competitors who offer the same thing or something comparable.  This still matters . . . even with green consumers.
Know what shade of green your client's consumers are:  "dark green", "light green" or "basic brown."  Conduct basic research to figure out the customer's personal green interests. As presented by J. Ottman, a green marketing consulting firm and one of the country's leading experts on green marketing, it's helpful to ask your client the following about their customers: To which environmental organizations do members of our target audience belong (The Appalachian Mountain Club or Greenpeace)?Which types of vacations do they take (hiking or the beach)? Which environmental magazines and websites do they read or visit (Sierra or Animal Fair)? Which types of products do they buy (green fashions or energy-sipping light bulbs)? Which eco-labels do they seek out ("USDA Organic" or "Energy Star")?
You'll want to know if they are  "Resource Conservers," "Health Fanatics," "Animal Lovers" or "Outdoor Enthusiasts" or a combination of one or more of these segments.   This way you have a better handle on the mindset you are dealing with so you can hone your copy.
Green marketing can be a useful tool, but the campaign has to align with the needs of the target consumers.
P.S.  Bonus#2 Additional Site/Report that you may find useful:
Green Marketing in the US –  This Note discusses key regulatory requirements and sets out practical tips for companies to consider when engaging in green marketing in the US.