"The greatest danger in times of turbulence is not the turbulence – it is to act with yesterday's logic." – Peter Drucker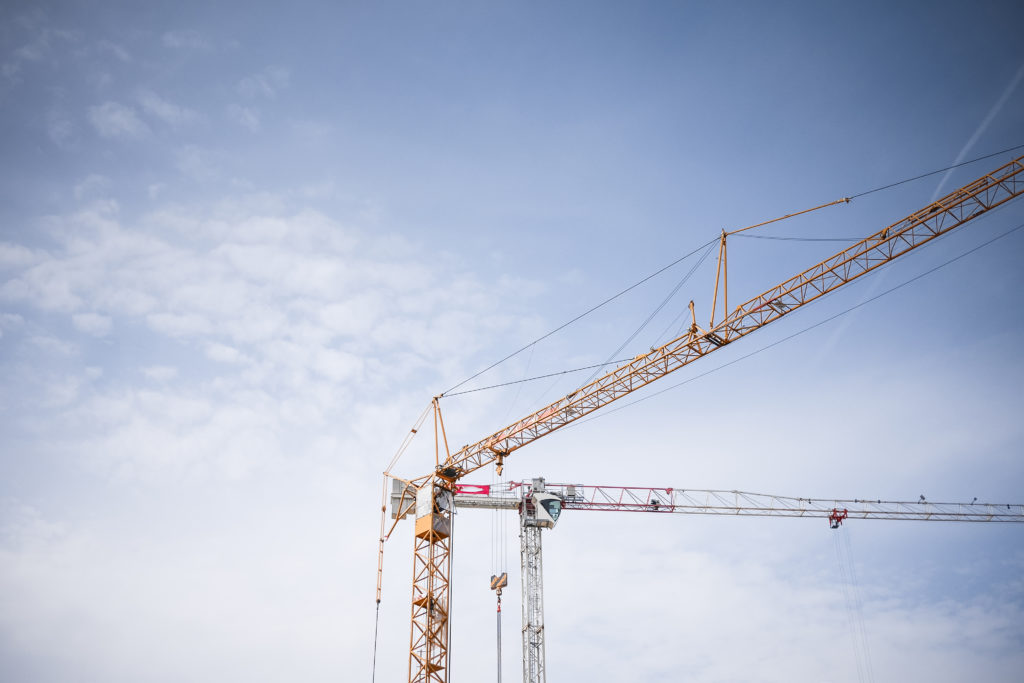 I visited an industrial  b2b copywriting colleague's portfolio the other day regarding a piece I was preparing to craft for my client. As I clicked into the website links of my friend's clients' businesses, I noticed that many of the links led to 404 (deadlink) pages  or sites where the URLs were now for sale.  After coming across more than seven of these in a variety of industries, I jumped on Google and searched the names of these companies to see if maybe they just changed their domain names.  They hadn't. They were out of business. I was floored.
Since they were in industries that are still thriving, I couldn't help but wonder if it had something to do with losing ground and not keeping up with the world's dizzying digital changes.
All businesses, particularly old-hat, trade and industry companies, MUST stay on top of the disruptions taking place, because more and more, digital marketing is gathering steam and playing a bigger role in the way industrial B2B companies get their products and services in front of their customers. According to DemandWave's "2017 State of B2B Digital Marketing" annual report, nearly 50% of B2B marketers expect to invest more in digital marketing this year; 38% of marketers plan to spend 60% or more of their marketing budget online.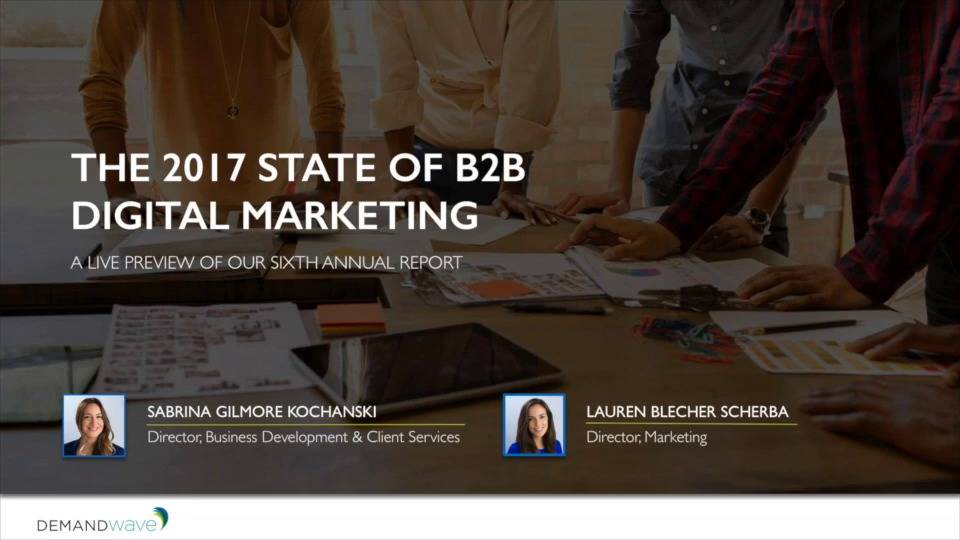 Why does that matter? Because your competitors who are already in-the-know are doing it, and you don't want to be left behind. If you own an Industrial B2B company, or you're a marketer or other decision maker at one, it's time to start planning or executing your digital marketing strategy as well. Not sure where to begin in creating one? This basic guide will quickly get you up to speed so that your company will be able to benefit from digital marketing in no time. First, let's look at what digital marketing is.
Digital marketing is also called content marketing or online marketing. It is so called because it relies on internet-based resources, including websites, email, search engines and social media platforms, to market products and services to the intended audience.
In the context of a firm marketing its products and services to another firm, your digital marketing strategy must take into consideration that business buyers' purchasing decisions are more methodical and logical than non-business customers.
1. Know the Differences Between Individual Customers and Business Buyers
– Individual customers usually make a purchase because of a personal want; business buying is driven by an organization's need. That's because individuals purchase products and services for consumption, while businesses buy products and professional services to make or enhance other products and services, or to resell.
– Individual customers make purchases on an emotional level; businesses do so rationally.
– Individual customers tend to be impulse buyers; business buyers try to measure the cost–benefits first.
– Individual customers tend to make small purchases; businesses often buy in bulk.
– Individual customers often make purchase decisions individually, or at the most, as a family; business buying decisions often come about after group consultation.
– Individual customers pay all at once; businesses naturally pay in stages.
2. Create Content That Converts
The first place to begin your approach is with the type of content to be used for your digital marketing needs. Content for the Industrial B2B customer needs to be fact-based and relevant to their needs. Experts recommend the 80/20 rule for content, where 80 percent is content that focuses on giving useful, problem-solving information to the business buyer, while the remaining 20 percent is promotional content.
Useful content includes white papers, webinars, video demonstrations, blog posts about industry happenings, and infographics detailing product life-cycle or statistical data. Promotional content could be press releases about product launches, announcements about company mergers and acquisitions, as well as content about promotional events. Much of this content will be derived over time, but knowing beforehand what is expected will help your strategy moving forward.
3. Frame Your Messaging to Match Your Audience
Knowing what content to create is one thing but the messaging of that content has to be appropriate for it to resonate with your target audience. Recall that industrial business buyers don't make strictly emotional purchasing decisions. As a result, your messaging has to be about showing that you are a thought leader and/or market authority in your industry. Getting this messaging right demands that you invest in writers who are trained in writing B2B marketing content and copy.
4. Choose Your Delivery Channels
There are a number of channels you can use to reach your business customers with your content and messaging. The channels include email, social media, pay per click (PPC) advertising, blogging, retargeting, and influencer marketing. While it might not be practical to use all of these channels, you will need to combine several of them to be successful.
5. Connect With Business Customers
Industrial B2B customers are looking for a long-term partnership with the companies they buy from, so you want to gradually build a connection with them that they will find value in. One of the ways to do this is to be active on the social media platforms that they are most likely to be found on.
– Social Media: Being active on social media not only allows you to engage with your audience, it also provides avenues where you can share your content. The main social media networks for researching suppliers and reading industry content include Linkedin and Google+. However, Facebook and Twitter are also used by industrial sector professionals for posting and sharing content.
Facebook permits the sharing of a variety of content, ranging from articles and reviews to videos and images. The more active you are on social media, the more followers you will gain as time passes by.
As for Twitter, the micro-blogging site is a hotbed of B2B activity, with research showing that Twitter users who see tweets from B2B tech brands are more likely to visit their websites compared to regular internet users (59% : 40%).
Overall, 54 percent of B2B companies have reportedly generated leads via social media, so it is one tactic that you can't ignore. Moreover, up to 2016, 46 percent of B2B researchers were millennials. Millennials demand work-life balance and a passion for their career choices. As a result, millennials are working in industries that fit with the demands of their lives and the manufacturing industry is one of five industries where most millennials are working.
Following the same 80/20 rule, the majority of your social media content should be geared towards sharing useful information while the rest should be promotional. However, non-promotional content can include links that lead back to your website or landing page where emails can be captured and used in more targeted campaigns.
To get the most out of social media, you need to have a good understanding of each platform. It might suit you better to hire a social media manager if you are not conversant with the way people interact on each platform. Again, good copywriting is an important skill for social media personnel to have. The basics for good social media content include having great captions for posts; using high quality, optimized images; including effective call-to-actions, such as like, share, visit, etc.; and knowing the optimal times to share content.
– Blogging: Another idea is to start a blog that offers up regular, well-written articles Industrial B2B readers can relate to. But a blog is not all about providing information; it's also about boosting your SEO presence. Statistics show that B2B clients do 12 searches on average before engaging on a specific brand's website. A blog allows you to create SEO-optimized articles that make it easier for your website to be found on Google and other search engines.
– Webinars: Doing webinars is another great way to connect with potential Industrial B2B buyers. When done right, a webinar can at least bring back a substantial amount of viewers back to your landing pages and website. In addition, it allows you to create video content that you can then share with your audience at another time. With studies indicating that up to 70 percent of B2B buyers view webinars and videos when making a purchasing decision, a webinar can help to boost your conversion rate.
6. Use Email Marketing to Boost Conversion
Email marketing continues to be the workhorse of digital marketing. It entails sending a series of emails to your Industrial B2B buyer over a period of time to create relationships and lead them to making a buying decision. It has to be effective in order to produce the results you're looking for.
In essence, you want to create emails that get opened and encourage clicks. The components of a good email include:
a) Strong subject line that engages the recipient
b) Short and direct body content that says what needs to be said in as few words as possible but is still engaging.
c) Effective calls-to-action that encourage readers to click.
d) Email marketing is an ongoing process, so you will need to have a strategy to keep building your email list. One way to do this is to offer potential Industrial B2B customers a freebie in return for their email addresses. Some great ideas which have worked for industrial B2B companies include offering e-books, white papers, case studies and industry reports.
The email campaign process includes outstanding email templates, great landing pages, and simple signup forms. You want to make your signup form as simple to use as possible, capturing only the relevant details. Long signup forms are a turn off, no matter how valuable the content you're offering is.
Once you have gotten the email address of prospects, you now need to send them content that will ease them towards conversion. Your content can include a welcome email, sales emails that make them aware of discounts you might be offering, and newsletters that provide interesting information. All of this can be executed using an email automation platform. In fact, you should invest in automation; studies show that automation platforms boost sales by up to 10 percent.
e) You also need well-designed landing pages to support  your sales emails, so that your customers are directed straight to the product or service they are interested in.
Conclusion
By now, it should become clear that industrial B2B digital marketing requires a different approach from that of B2C in order for it to work for you. You're no longer just setting up a brick and mortar store or simply selling online. You need to connect with potential industrial B2B buyers, earn their trust, and eventually lead them to making purchases. Following the basic guidelines above will help you get on the right path to wooing other businesses and growing your bottom line.
---
Got a B2B audience you need to target and not too sure of what NOT to do.  Tell us your issue on the contact sheet in a few words and we'll reach out to you to help you out.