Although this post was written with freelance copywriters in mind, it can apply to other freelancers.
One of the most promising methods for generating leads for any freelance copywriting business is networking.  But, like anything, in order for your presence at a networking event to work, you can't pussyfoot around.  You have to go for the gold! To go for the gold, you have to know what you're doing.  Sadly, so many people who say networking is an "okay" marketing practice don't achieve the great results that are begging to be achieved because they are – plain and simple – going about it in the wrong way.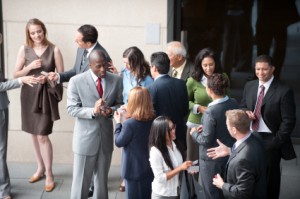 Successful networking takes planning. Don't get nervous, it's not rocket science.  Nor is it too time-consuming, but you do have to be committed, and you have to be willing not to take short-cuts. People who do that are kidding themselves and are the very folks who complain that "It's not working."  Of course, it's not working – for them!  Showing up and handing out your business cards, or attempting to sell your product or service to people you meet while networking is a sure-fire way to alienate potential business contacts.  Your goal is to cultivate a community of evangelists, to experience the same money-spinning outcome that master networkers experience.
Networking is about crystallizing relationships, establishing trust.  It's about communicating that unforgettable core message about your freelance copywriting brand that your fellow networkers HEAR and REMEMBER so that when a copywriter is needed, it's YOU they remember to refer. It's about being the answer to their financially driven prayers, their problem solver.  You want it to be your business card they're fumbling through their briefcase looking for. THAT's what you want. That's why you network.
Wouldn't it be nice to have people lining up to work with you, people willing to wait until you have an availability to work on their project?
I'll answer for you. Hell yeah!
Now, let's talk about "the how."
How do you virtually guarantee that networking leads to continued success for your freelance copywriting business? Answer: You Prepare.
 STEP 1 – Find Out Who's Attending the Event – The ultimate purpose of networking is to build your business. While, as you will learn later, anyone can be a great referral source, you still want to make a point of talking with people whose businesses are complimentary to your freelance copywriting business.  For example, that graphic designer on the list of attendees, the ad agency owner or the digital marketing manager may have overflow work for you in the near future.  Of course, this is certainly not something you will bring up at the event. However, it is a subject for which you should be well-prepared to discuss for as long as they like, if they bring it up.  Since, in all likelihood, everyone will be wearing name tags, it probably won't be too hard to spot them. Often, networking hosts ask that you write your company name on your tag as well.
If the event has a website, check it out to see if there is a picture of the person and send it to your phone or print it and tuck it away somewhere.  Try to find out a little about their business, so you can make meaningful commentary (one or two points only; don't be over-the-top).  Read their reason for attending the function, if it's posted, so that your contribution to the conversation can stay within those parameters.
STEP 2 – Craft Your 15-second Promise – Some people refer to this brief description of your business as the "elevator pitch."  This introduction is something you share with business people you meet when they ask you what your business is about or what you do.  I prefer to call this story a "15-second promise."   The most efficient way to tell your story is to include your freelance business's brand promise in the spiel.  Your brand promise is what all of your customers experience when they work with you.  It's why your customers like working with you.  It identifies what potential customers should expect from all transactions with you.  Your brand promise is who you are.
The other component of the 15-second promise is a very streamlined, four-sentence case story, featuring a true statistic that highlights the way your copywriting improved a client's business. Stories are compelling. They give the listener a visual.  It's provable, and it says to the listener, "that could happen to your business if you stick with me."
When you sit down to develop your brand promise, keep in mind, it must be: clear, compelling, concise and credible.
Hi Stacey, my name is Ron. I am a graphic designer. What do you do? 
Hi Ron. I write marketing material that helps companies attract customers. For example, I crafted a brochure for a day care center that helped them increase their enrollment by 100% in a couple of months. And then the city forced the school to create a waiting list.
STEP 3 – Ask Good Open-Ended questions, Listen While You Let Them Talk – This simply means asking questions that begin with "who," "what," "where," "when," or "how."  The idea is to generate a conversation that demonstrates to the person that you are interested in hearing about them.  Ask them, "How can I help you?"  and "What can I do for you?" They will get around to asking about you.  The best way to learn more is to let them talk.  The more they talk, the more you learn how you can help them, or the more you learn about ways their business and/or who they know complements your freelance copywriting business goals.  Don't pre-judge.  Sometimes you discover invaluable things. They may know just the type of person you've been looking to connect with.  You never know who another person knows or what they know just by looking at them.
STEP 4  – Write a Memory-Jogging Note on the Back of Their Business Card – After the event, you will follow-up with all the people you met that day.  While at the event, casually jot down notes on the backs of the business cards you receive. Write something that will help you remember who that person is.  Write something you can insert in an email that will show them they made an impression on you, perhaps something they said or alluded to.
STEP 5  – Follow-up that Night  – After the event, take an hour or two, while the event is still fresh in your mind.  Open a file with the function date, the name and place of the function and create a spreadsheet for it.  On that spreadsheet, add the contact information from each of the business cards. Go to their about page or linkedin page and copy a picture onto your spreadsheet to help you remember them months afterwards.  Also on the spread sheet, add the notes that you jotted down on the backs of their business cards.  Add any more information  that you recall them mentioning, particularly the answer(s) they gave when you asked "how can I help you…"  Then write a "Nice to Meet You" email to the people with whom you made contact.  Add a brief piece of info from the card (not everything you remember)  into your email so that it has a natural sounding flow and does not sound staged when you read it aloud to yourself.  Every email should be original. Do not use a boilerplate email. Someone at the event may forward your email to someone else you met.  You don't want that next person to see that they weren't important enough for you to take five minutes to come up with an original thought.
STEP 6  – Reach Out 6-8 Weeks Later  – Six to eight weeks after the event, send something complimentary, non-solicitous, that could help them with their business or with their copywriting.  Remember, your spreadsheet will have notes about them and about areas where they need.  Take an hour or so (as part of your marketing schedule) and go through mailings or postings you've received that include webinars that may interest them or some other function that may help them with their business.  Go through your emails to see if someone asked you to refer someone with their expertise and make an email introduction.  This will come back ten-fold!   At the conclusion of your email, you can say , if they have any questions, they can email or call you.  The idea is to stay fresh in their minds – in their minds as that helpful writer they met.
Networking is a great, low-cost marketing approach for building your business and expanding a client base for freelance copywriters, making this career a rewarding journey. However,  like anything, you have to work it.  And, as far as my experience has shown me, it is certainly one of the best ways, if not, the best way to build your freelance business.   It works, but you have to do it consistently.  Make it a regular part of your marketing strategy if you want to get serious about freelance copywriting.  You will see the fruits of your labor.  I've seen the benefits of networking.  I've had waiting lists of my own as a result of networking, to the point where I needed to take a hiatus from networking because I got a bit overwhelmed with incoming work.  Do it wrong and you'll miss. Do it right and you'll hit.
BONUS: Below are Links to Three Trusted Sites You Can Use to Find Networking Events:
Meetup is the world's largest network of local groups.
LinkedIn is a business-related social networking site
Eventbrite features an increasing amount of free networking events.
P.S.   Want to learn about networking? Learn how to network so that you get great results from it and feel authentically yourself the whole time.  World-renowned Fabienne Fredrickson shares ALL of her secrets in The Secrets of Master Networkers Manual.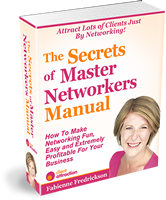 P.P.S. Fabienne Fredrickson, The Client Attraction Mentor, is founder of the Client Attraction System®, the proven step-by-step program that shows you exactly how to attract more clients, in record time…guaranteed. To get your F.R.E.E. Audio CD by mail and receive her weekly marketing & success mindset articles on attracting more high-paying clients and dramatically increasing your income, enter your email address below right away.